LAST UPDATED: April 1, 2021
COVID-19 Vaccine Information
Siskiyou Community Health Center is now scheduling COVID-19 vaccination appointments. Please call our COVID-19 Hotline at (541) 472-4700 to schedule an appointment. We are working closely with public health officials and following the Oregon Health Authority (OHA) guidelines for vaccine distribution. Anyone in Phase B is eligible at this time.
Frequently Asked Questions about the COVID-19 Vaccination
Services That Have Changed
Due to COVID-19
Siskiyou Community Health Center is committed to the health and well-being of the community and will continue to care for our patients during the COVID-19 outbreak. It is our intention to avoid sending patients to the Emergency Room whenever possible so they can care for the most critical patients. In order to maintain the highest level of safety for our patients, staff, and health care providers, we've made some changes in protocol and have implemented the use of telemedicine visits when appropriate. For all patients seen in the office, be assured we have a rigorous cleaning process of the entire clinic to prevent the spread of infection.
COVID-19 Testing Information
Siskiyou Community Health Center is offering same-day COVID-19 testing for our patients, including patients of our Walk-In Clinic. All tests require a lab order from a medical provider.
If you are seeking testing, have symptoms or exposure to COVID-19…
Stay home and contact your Siskiyou Community Health Center primary care provider.
If you do not have a primary care provider at Siskiyou Community Health Center, a Walk-In Clinic provider can evaluate your symptoms through our virtual visit platform. Click

here

for information on scheduling a virtual visit.
For more information, contact the Siskiyou Community Health Center COVID-19 Hotline at (541) 472-4700.
Siskiyou Community Health Center offers three types of COVID-19 diagnostic testing, all of which are covered by insurance. A provider will determine which type of test is appropriate based on the patient's situation.
The cost of a virtual visit evaluation for COVID-19 is $49.
The cash price for the COVID-19 test itself is:
1. Onsite PCR = $154.00
2. PCR sent out to LabCorp = $61.31 ($51.31 billed from LabCorp. $10 collection fee charged by Siskiyou Community Health Center)
3. Antigen = No Charge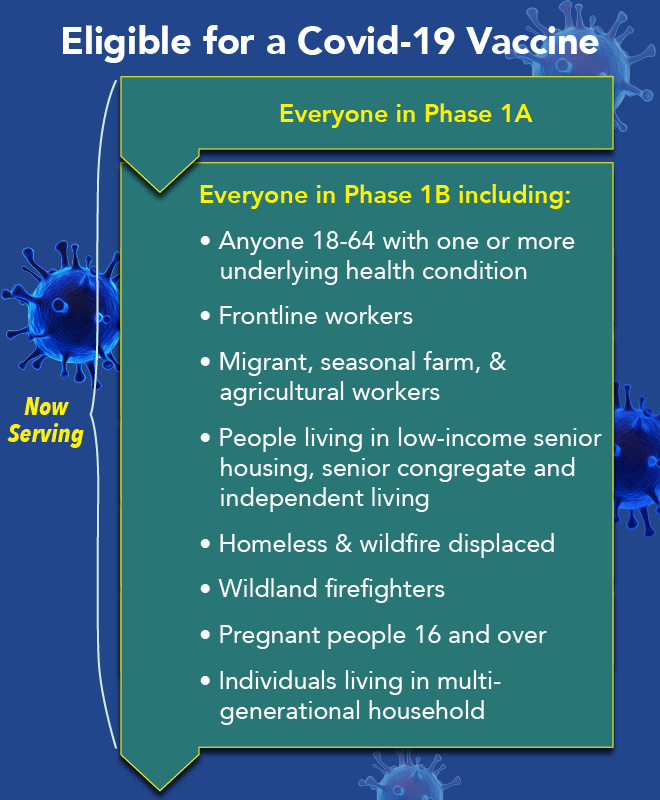 COVID-19 HOTLINE – (541) 472-4700
Call to schedule a vaccination or
if you are experiencing symptoms
like fever, cough or
shortness of breath.