Now you can access the same quality medical care you come to expect from the comfort of your home through a live video chat on your tablet, smartphone or computer. Whether you're in Grants Pass, Cave Junction, or anywhere in Oregon, you can count on convenient care from our medical providers. We currently have two platforms available for providing virtual visits, one for Walk-In Clinic patients and one for visiting with your primary care provider.
GoToMeeting
GoToMeeting is used when you want to connect with your primary care, behavioral health, or dental provider. If you already have a virtual visit scheduled and need assistance accessing GoToMeeting, use the steps below. If you need an appointment, call our office at (541) 472-4777.
1. Download the GoToMeeting mobile app to your smartphone or tablet from the Apple Store or Google Play.
2. This is a free app and does not require you to enter any personal information, such as email, or to sign up for a trial. This step should be done before your appointment so that it is ready to use for your visit.
3. A few days before your appointment our Virtual Visit Support Team will contact you to confirm your appointment and to ensure you are set up with GoToMeeting and ready for your visit.
4. At your appointment time, our office will contact you and give you the meeting number for your visit.
5. Open the GoToMeeting app, enter the meeting code and click 'Join'. Your microphone and camera will always be turned off when you join a meeting. You will need to use the icons at the bottom of the screen to turn on your microphone and camera. You may also have to click 'Ok, I'm Ready' to join the visit.
6. Your provider will join you in the virtual visit.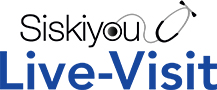 To connect with the Walk-In Clinic for health care advice and treatment for common, non-urgent medical conditions, use our Siskiyou Live-Visit platform. There is no appointment or phone call needed. Providers are available Monday through Friday from 8:00am – 5:00pm.
1. Click the link below to sign up for a free account. If you are using a mobile device, you will be asked to download the eVisit app from the Apple Store or Google Play.
2. Create an account and answer a few questions. You will then be placed in the virtual waiting room and an available provider will be alerted that you are ready for your appointment.
3. Select how you would like to be notified when the provider is ready (Text or Phone). Select YES when asked for permission to share your microphone and camera. The screen will go black until the visit starts. At this point, you can wait for your provider or turn off your screen and come back when you get the notification that the provider is ready.
Need help?
Watch our video.